Powering Innovation: Our Success at the Vietnam Electrical Expo
You are here: NEW MACHINERY news > Powering Innovation: Our Success at the Vietnam Electrical Expo
2023-08-10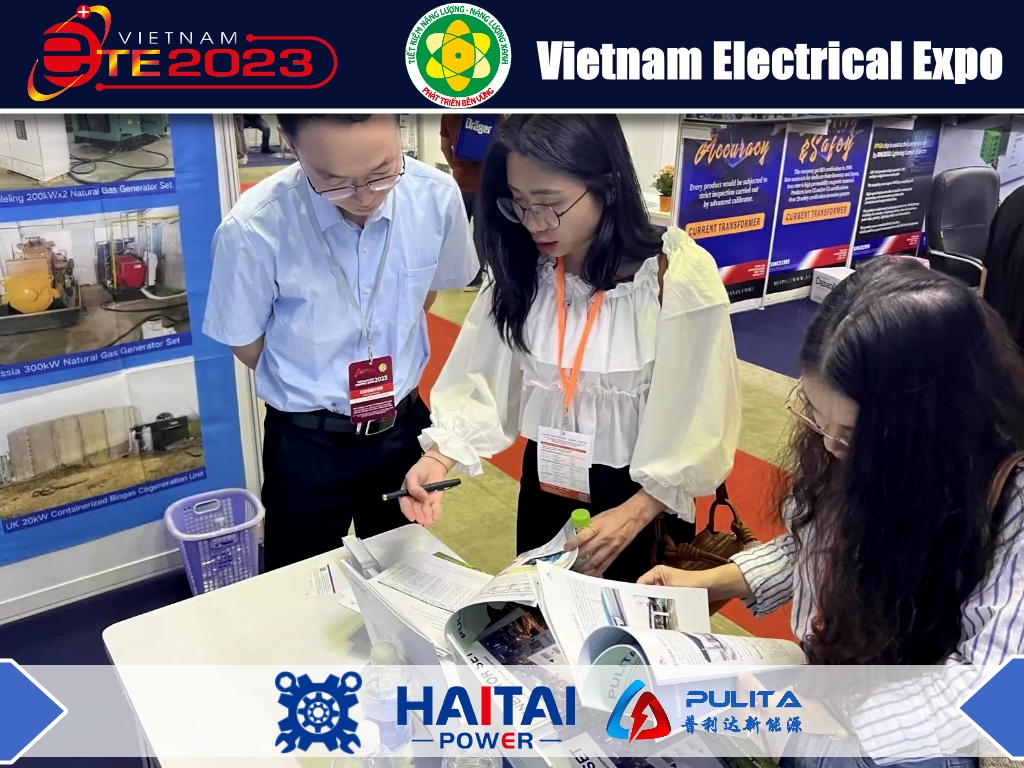 Read:
5941
Copy page link
Share link to:
Facebook
|
Twitter
---
The largest exhibition on Electrical Equipment and Renewable Energy in Vietnam 2023
Our Success at the Vietnam Electrical Expo
Exhibition Place:
Saigon Exhibition & Convention Center Booth Number: 396
Exhibition Venue:
The Ho Chi Minh City hosted the Vietnam Electrical Exhibition, a gathering of global electrical industry experts.
Amidst the vibrant setting, a world of innovation and progress unfolded.
Our Showcase:
Proudly on display were the latest diesel and gas generators, setting the stage for innovation.
Our team engaged visitors with insights into product features, garnering attention from industry professionals.
Engaging with Clients:
Eager interactions with visiting clients allowed us to share performance details and applications of our generators.
Engaging discussions with experts enriched our perspective and fueled fruitful exchange.
Exhibition Photos:
Below, capture glimpses of our dynamic exhibit - our booth adorned with our standout products, captivating presentations,
and heartfelt exchanges with clients. These photos vividly depict our exhibition journey.
---
Supporting Organizations: Ministry of Industry and Trade HCMC People's Committee
Hosting Organization: Ho Chi Minh City Department of Industry and Trade
Organizers: C.I.S Vietnam Advertising & Exhibition JSC HCMC Center of Supporting Industries Development
Domestic Co-Organizer & Main Sponsor: Ho Chi Minh City Power Corporation (EVN HCMC)
International Co-Organizers: Fujian Zhenglian International Exhibition Business Co., Ltd (China)
International Supporting Organizations: China Council for the Promotion of International Trade Electric Power Industry Office
China Chamber of Commerce for Import and Export of Machinery and Electronic Products
---
---
Get more information from us
OVER 15 YEARS
OF SUCCESSFUL SALES ON THE GLOBAL MARKET. THE BEST SELECTION FROM THE MOST RELIABLE MANUFACTURERS IN CHINA.
DIRECT DELIVERY FROM MANUFACTURERS FACTORIES, NO WAITING AND MINIMUM PRICE
MULTIPLE CATEGORY
More than 120 different categories for you to choose from
LARGE STOCK
More than 30,000 vehicles and equipment are waiting for you to stock for immediate delivery
FAST SHIPPING
Fast shipping time to any country in the world. Door to door service is available for each way.
oDM/OEM
Any factory modification to your requirements. Including your logo and/or Pantone colour of choice.
WARRANTY
1-3 year warranty and lifetime technical service and spare parts
CUSTOMIZED SERVICE
Technical Support and friendly service 24/7
NEW MACHINERY® latest arrivals
NEW MACHINERY® the best offers
NEW MACHINERY® the best construction vehicles
NEW MACHINERY® OUR LATEST NEWS